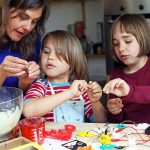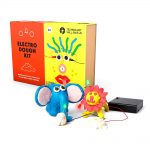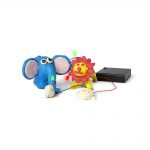 Tech Will Save Us – Electro Dough Kit (4+)
Allan Villar
Bring the worlds of science and play together to invent your dough creations
Electro Dough is the perfect introduction to learning about electricity through play. Kids age 4+ are introduced to basic circuits and how electricity works by making and playing with conductive dough! A Tech Will Save Us bestseller, Electro Dough comes with a recipe to make your own dough, and everything you need to make fun shapes and create simple circuits to make the dough light up and buzz. And find dozens of extra projects on MAKE, our free online projects platform!
Our Mission
The mission for the Electro Dough Kit is to introduce kids to STEAM principles through dough. As a company, our mission is to grow Tech Will Save Us to be the most accessible ecosystem for hands on learning with technology as a medium for creativity and problem solving.
Introduce basic circuits and how electricity works through play
The perfect introduction to learning about circuits and how conductivity works as dough is one of the most universally loved materials – it's so squishy and tactile!
Open-ended play and fun
Create a rocket with light up fire, a homemade game of operation or some amazing dough fireworks. Learn about building different types of circuits, polarity, and resistance while having fun.
Dozens of Projects to make online
It also comes with its own digital hub called the Make Platform. The Make Platform is a digital playground filled with fun and engaging projects, 'tech recipes' and challenges that enable kids to get hands on learning whilst having fun.
Designed for ages 4+
A great age appropriate STEM kit that the whole family can enjoy. Then build, squish and invent dough creations. Use the included cutters, LEDs and buzzer to add light and sound.
No extra tools required
Learn while using everyday household items- combine with your existing play dough or use our included recipe to make your own out of common household goods.
We ship to