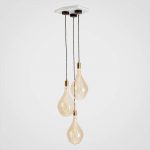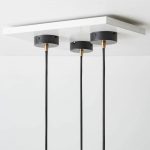 Tala Lighting Voronoi Ceiling Plate
Christine Cristobal
Powder coated, steel ceiling plate that fits three ceiling roses in cluster arrangements. Designed to tesselate in different configurations of multiple units.
Conceived as a modular system, the Voronoi Ceiling Plate elegantly houses clusters of our signature Voronoi bulbs in groups of three.
The plate's geometric shape is designed to tessellate in a variety of arrangements, mimicking the forest canopy inspiration behind the Voronoi range.
– IP20
– 0.965kg
– 350mm (l) x 334mm (w) x 40mm (h)
– Matte white, powder coated finish
–  Weight: 0.965 kg
Specifications
BEST PAIRED WITH:
1. Voronoi I 2. Voronoi II 3. Voronoi III 4. Brass/Walnut Pendant
We ship to