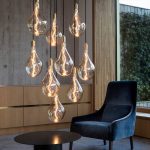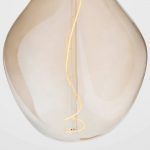 Tala Lighting
Tala Lighting Voronoi III Bulb
Christine Cristobal
OUT OF STOCK
OUT OF STOCK
Decorative LED filament lamp made of mouth-blown glass.
Out of stock
The largest sculptural bulb ever made, the Voronoi III is an engineering feat and statement design piece in its own right.
Designed to mimic the Fibonacci sequence seen in pine cones and ferns, the Voronoi III is noted for its distinctive spiral LED filament structure and mouth-blown glass surround.
Best displayed in our Brass pendants and hung in clusters of three, the Voronoi III is energy efficient and beautiful.
– 5W
– CRI 95
– 220 Lumens
– Dimmable LED filament
– Edison screw base cap
– Reduce energy use by up to 90%
– Weight: 0.413 kg
Specifications
Equivalent incandescent power 22W
Working temperature -5°C – 40°C
We ship to