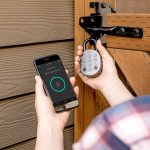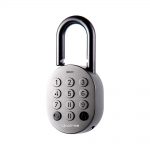 Smart Padlock – Grant Access Anytime, Anywhere
Igloohome Padlocks have a sleek modern design.
Rigorously tested construction, random security code feature, bump and pick proof, intrusion alarm, PSB fire tested and fire detection sensor, anti tampering lock out. This is the Padlock that has your back.
No more hassle of locating forgotten keys and replacing missing ones. No more frustration of accidental lock-outs. No more fumbling for keys. It's fuss-free living. NO MONTHLY SUBSCRIPTION PLAN
Unlock with a PIN code, or a Bluetooth key created on your smartphone. Different modes of entry are offered for flexibility of access.
Grant access to your assets & property even when you're not near them.. With the Igloohome mobile app, create PIN codes or Bluetooth keys, and select how long you want them to be valid for. Send them to your visitors from the app.
Igloohome Padlock works with innovative technology involving encryption and synchronization. Internet not required for the lock hence increasing reliability against Wi-Fi hacking.
Track the dates and times at which users access your padlock. Greater visibility on access brings you greater peace of mind.
We ship to