Satechi
Satechi Aluminium Type-C PRO Hub Adapter
Abrar Nawaz Shaik
The Satechi Type-C USB Hub allows you to use your old USB peripherals by converting a Type-C USB port to three USB 3.0 ports, an SD card slot, and a Micro SD card slot.
TYPE-C PRO HUB ADAPTER
Expand your MacBook Pro capabilities
More Ports. More Convenience.Utilize your MacBook Pro's USB-C PD port for pass-through charging and quick data transfer, all without sacrificing your USB 3.0 ports, SD/Micro card reader, 4k HDMI and Type-C port.
HDMI 4K Video DisplayUse the HDMI port to output crisp, high-resolution video to your 4k monitor screen. Simply, connect an HDMI cable from the Pro Hub Adapter to your external monitor to view crystal-clear display. Requires a direct HDMI to HDMI connection.
USB-C Power DeliveryUSB-C PD port (first USB-C port) supports data transfer of speeds up to 40Gb/s and pass through charging for both 13" (61W) and 15" (87W) MacBook Pro models. Enjoy brilliant 5K video output or connect 2 monitors for crystal-clear 4k resolution.
Added USB-C PortSecond Type-C port supports quick data transfer, with speeds up to 5 Gb/s. Please note this port does not support pass-through charging for MacBook Pro.
TECHNICAL SPECIFICATIONS
A look at the finer details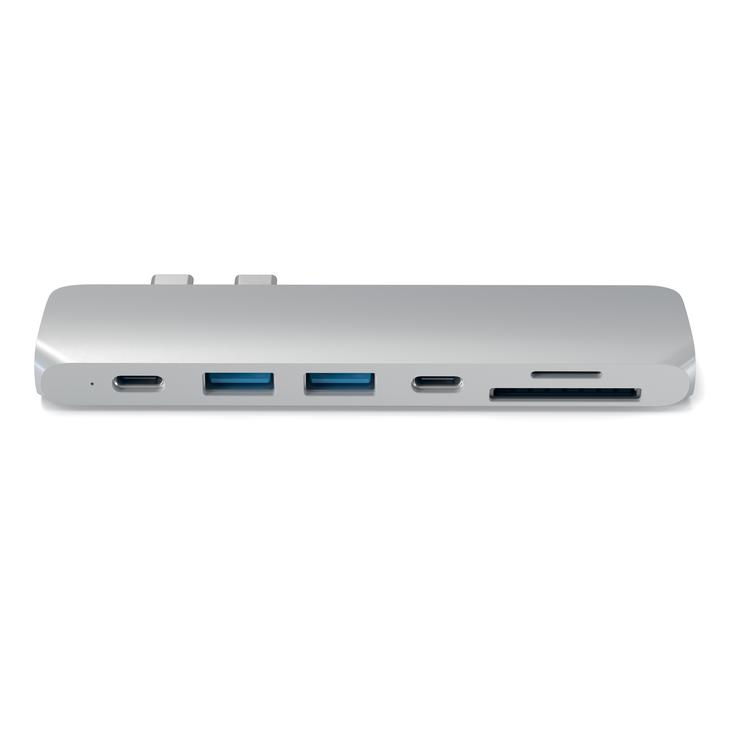 COMPATIBLE DEVICES

2016/2017 MacBook Pro 13″ and 15″ models. It will not charge an iPad. Not compatible with Apple SuperDrive.
Transfer Speeds for Thunderbolt 3 up to 40 Gb/s, USB 3.0 and USB-C up to 5 Gb/s.

DIMENSIONS & WEIGHT

4.5″ x 1.1″ x 0.4″ , 1.4 ounces

MODEL NO / UPC

ST-CMBPS / 879961006884 (silver)
ST-CMBPM / 879961006891 (space gray)

GUARANTEE

1 Year Manufacturer's Warranty
We ship to