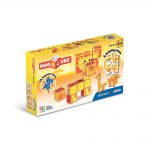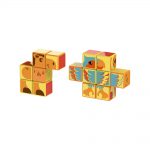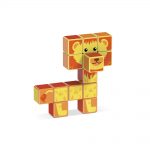 Safari Park Building Set – Geomag Magicube
Allan Villar
Geomag 135 Magicube Safari Park Building Set (16 Pieces)
Recommended age: 1½ years and up
Number of pieces: 16
Model number: 135
4 in stock
Watch as your buildings grow larger with Geomag Magicube Safari Park. This set contains 14 magnetic cubes to help build 6 different creations set in the savannah. And it doesn't end here: the box also contains 2 cards full of ideas and building tips. The cubes can be attached together from every side and even remain suspended! This helps to make wonderful constructions that are easy to build for everyone, including small children.
FEATURES
Magicube features a special design that allows the blocks to connect on all six sides making structures easy and fun to create.
The magicube toy range has been developed for children 1 ½ years and up, providing a play experience that is empowering and rewarding.
Promotes STEM learning and fine motor skills with fun hands-on play
Kids use the invisible and magical forces of magnetism to create shapes and 3D structures, taking building blocks to creative new heights.
Made in Switzerland, Geomag Manufacturing complies with the most rigorous European and International safety standards, following each production phase step-by-step to ensure that Geomag products adhere to the highest safety standards.
WARNING
Contains strong magnets: Keep away from sensitive devices such as credit cards, computers, magnetic media and medical devices (pacemakers)
We ship to