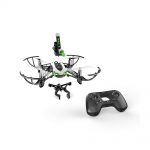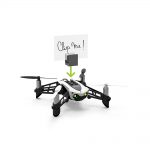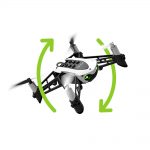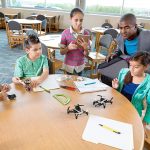 Parrot Mambo Drone and Fly Pad
Allan Villar
Parrot uses its experience to provide practical and reliable drones to maximise consumer enjoyment – whether being able to capture incredible footage, navigating drone races or flying with First-Person Viewing (FPV).
Parrot Mambo Mission
One Drone, Two Accessories To Test Your Skills
The Parrot Mambo minidrone is designed to enhance your drone skills! Whether you equip it with the Cannon or the Grabber, it will make the sky a dynamic adventure. Once your accessories are attached, engage in speed ​​racing or skill games, aerobatic or high-flying challenges. Super-robust and easy to handle, Parrot Mambo is the perfect drone for fun and diverse flying!
With a user-friendly interface and simplified drone connection, FreeFlight Mini has been designed to increase your flight possibilities and experiences. Access FPV video rendering on your smartphone and turn on the cardboard view to use your Parrot Cockpitglasses 2. Change your minidrone's flight settings and check the remaining battery and its flight time.
Fly More Precisely And Further With The Flypad
Parrot Flypad gives you very precise control of your Parrot Mambo drone and allows you to fly it for a distance of up to 100 m. Thanks to its adaptable smartphone holder, you can see the remaining battery, check the flight time and modify the flight settings.
Mambo is super easy to control with the Parrot Flypad's precision joysticks delivering easy and fluid control. Just in case, the Mambo comes with safety bumpers that shield the propellers.
The pack includes an HD battery which provides up to 10 minutes of flight time and a USB cable for charging.
Test Your Skills
Go out on a mission by yourself or as a team with your Cannon. Attach it to the Parrot Mambo and let the games begin. Target enemy drones or try out skill games like shooting a pyramid of cups or knocking over light targets. You can carry up to six pellets.
Play The Transporter
Want to surprise your friends? Attach the Grabber to the Parrot Mambo and be inventive because everything is possible… The grabber can grab objects (up to 4g), carry them in the air and place them wherever you want.
Exhilarating Flights And Acrobatics
Reverse, rotate, flip back and forth and perform take-offs from your hand: with your smartphone, you are ready to experience new thrills and take on new challenges. Fly past obstacles, slalom between poles or be the fastest on a circuit, you choose!
Numerous sensors and advanced software make this minidrone incredibly stable

Control Mambo at up to 100 metre distance in optimum conditions with the included Bluetooth controller; the Parrot Fly pad.

Unique "free fall" take-off system allows Mambo to be hand launched.

Write code for your drone through partner applications

Perform tricks and flips with a selection of presents available in the app and includes 2 powered accessories; the canon and grabber
We ship to