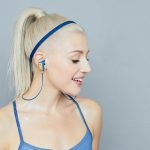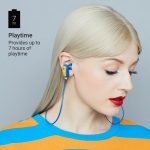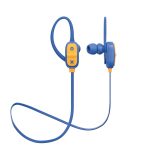 JAM AUDIO Live Large Wireless Bluetooth Earbuds
Allan Villar
BLUETOOTH COMPATIBLE: Be free from wires that keep you connected to your smart device. The Live Large is Bluetooth compatible and allows you to roam within 30-feet of your connected device

SWEAT AND RAIN RESISTANT: These specially designed, IPX4 rated earbuds allow you to combat the elements. Working out? Caught in a monsoon? Not a problem. These earbuds are ready for a challenge

CORD MANAGEMENT: This convenient piece allows you to adjust the length of your earbuds' cord for an optimal fit

HANDS-FREE CALLING: Don't interrupt your workout. You can answer the phone without disconnecting your earphones. Live Large knows when a call is coming in and will pause the music before ringing. When you hang up, the music starts where the track left off. If you're making a call, just start dialing from your phone and Live Loose does its hands-free thing. Connectivity Technology: Wireless-Bluetooth
Step up and leave that aux cord behind. These wireless headphones will give you up to 7 hours of playtime before a recharge, and the 15-meter/50-foot Bluetooth range is a thing of luxury.
These specially designed, IPX4 rated earbuds allow you to combat the elements. Working out? Caught in a monsoon? Not a problem. These earbuds are ready for a challenge.
Be free from wires that keep you connected to your smart device. The Live Large is Bluetooth compatible and allows you to roam within 30-feet of your connected device.
We ship to