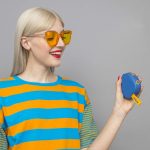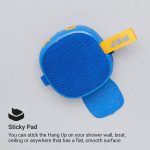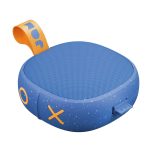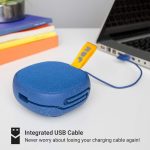 JAM AUDIO Hang Up Waterproof Shower Wireless Speaker
Allan Villar
UP TO 8 HOURS PLAYTIME: Have your party go late into the night without worrying about charging your speaker

WATER & DUST PROOF –IP67 RATED: The Hang Up is designed to keep the music going through just about anything. The IP67 rating means it's dirt-proof and submersible in water up to one meter for 30 minutes

SPEAKERPHONE: You can answer your phone without disconnecting from the Hang Up. Hang Up knows when a call is coming in and will pause the music before ringing

SPEAKERPHONE: When you hang up, the music starts where the track left off. If you're making a call, just start dialing from your phone, the Hang Up automatically does its hands-free thing

AUX-IN PORT: No Bluetooth, no problem.  The aux-in port allows you to hook your Hang Up to your device with a 3.5mm cable so you can enjoy your music wherever you are

STICK PAD: The innovative stick pad allows you to adhere the Hang Up almost anything, despite gravity. You can stick the Hang Up on your shower wall, boat, ceiling, standing mirror, solar panels or anywhere there has a flat, smooth surface
Small package, big impression. The waterproof Hang Up has a suction pad to stick on any wall, shower tile, or wherever else you're looking to sing along.
The Hang Up is designed to keep the music going through just about anything. The IP67 rating means it's dirt-proof and submersible in water up to one meter for 30 minutes.
You can answer your phone without disconnecting from the Hang Up. Hang Up knows when a call is coming in and will pause the music before ringing. When you hang up, the music starts where the track left off. If you're making a call, just start dialing from your phone, the Hang Up automatically does its hands-free thing.
We ship to