Story by Flyte – Walnut Levitating Clock
Allan Villar
STORY is the world's first levitating timepiece allowing you to personalize your most unique journeys.
SKU:

01-STR-WAL-V1-0
Category: Clocks
STORY consists of a magnetically levitating sphere that orbits around a wooden base telling the time.
The base contains a backlit display that illuminates through the wooden surface, giving it a seamless look and finish.
For extended features, connect STORY to the cloud for using our mobile app and illuminate realtime data thorough STORY's backlit display.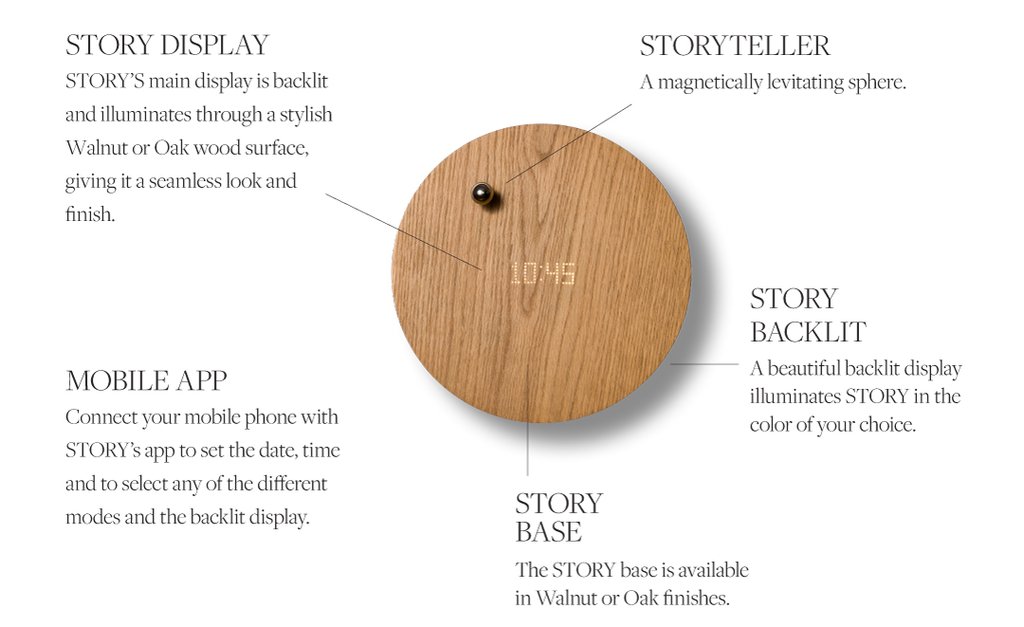 STORY is more than just a clock: it's a unique way to visualize time.
A new home, a new member in the family, a marathon, or plans to travel the world, STORY allows you to create your own personal timeline.
Watch time being counted in a surprising way: a gravity-defying clock. The floating chrome sphere represents the hour, telling the time as it levitates around its wooden base.
STORY works for your short term daily activities as well. A 1 hour meeting at the office? Let STORY count it for you.
Displays numerical time illuminating through the surface of the wood. 
Illuminate real-time meteorological data, such as moon phases. RGB / Warm White LED display customizable via the FLYTE app.
The magnetic sphere can levitate horizontally, vertically or at a 60-degree angle with included stand and mounting kit.
Includes Walnut base, chrome sphere, AC Adapter.
Base Diameter: 268mm (10.5")Base Height: 42.5mm (1.7")
Chrome Sphere Diameter: 16mm (0.6")
Textile cable length: 2m (78")
Base Weight: 2.0kg (4.4lbs)
AC Adapter: Input 100-240V – 50/60Hz;
Output 15V 1A (Global voltage compatible)
Shipping:
Est. ship out in 2 - 5 days
Dimensions:
| | |
| --- | --- |
| Weight | 1 kg |
| Dimensions | 26.8 × 4.25 cm |
We ship to