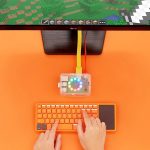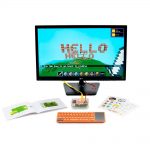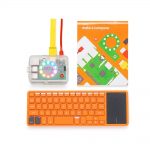 Kano Computing
Computer Kit – Kano
Allan Villar
OUT OF STOCK
OUT OF STOCK
Kano Computer Kit – A computer anyone can make – Plugs into any HDMI screen
Build it yourself
Learn to code
Make art, games and music
Out of stock
Build your own computer, discover how it works. Learn to code with 100+ step-by-step creative challenges. Make art, games, music and more. Don't just play Minecraft, hack it to do something new. Create, share, and play with the Kano community.
What you do
Build it yourself

Open the box, pull out the bits, button, and brain. Follow the story, build a computer all by yourself. Look inside, see how it works and bring it to life. Browse the internet, use your favorite apps like YouTube, Whatsapp, Google Docs, and more.

Learn to code

With simple steps, learn logic, Python, Javascript, and Terminal commands. Level up as you make art, games, and music. Your first steps into making your own websites, games, and more. Simple for beginners, expansive for experts.

Make art, games and music

Create landscapes and geometric rainbows. Code your own musical masterpieces, and animations. Don't just play games, change the rules. Take control of Minecraft, Pong and Snake.
A real computer
Browse the internet, watch YouTube, build beats with Google Song Maker, draw with Tux Paint, make animations with Scratch, send messages with WhatsApp and Gmail, research with Wikipedia, and much more.
Endless play
Earn rewards

Level up as you complete challenges and make new creations. Unlock medals, discover hidden rewards. Compete with friends.

Playground mode

There's no end to what you can make. Create your own art, games, music, Minecraft powers, and more with the skills you've learned.

Kano World

Join our free creative community. People of all skill levels, all over the world sharing and playing art, music, games and more. Safe and friendly.

Remix 700,000+ creations

See the code behind any creation, then tweak it to make it your own. Change the colors, mess with the math, hack the data.
We ship to