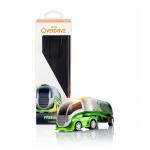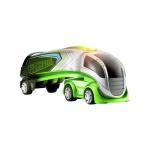 Anki Overdrive – Supertruck – Freewheel
Abrar Nawaz Shaik
OUT OF STOCK
OUT OF STOCK
Supertrucks use their size, weapons and new control system to dominate the track in Anki OVERDRIVE.

More than just an oversized vehicle, Supertrucks come with an exclusive game, new Commanders and a new way to battle: Rage Mode.

Don't let Freewheels smooth exterior fool you; he's packing a world of hurt. Get too close and you'll be torn apart by his Gravity Trap.
Out of stock
Drive The Future
What makes Anki OVERDRIVE the world's most intelligent battle racing system? Tech so advanced, it feels like the future.
Each Supercar and Supertruck is a self-aware robot, driven by powerful artificial intelligence (A.I.) and equipped with deadly strategy. Whatever track you build, they'll learn it. Wherever you drive, they'll hunt you down. The better you play, the better they become. Whether you battle A.I. opponents or friends, your tactical options are unlimited. And with continuous software updates, the gameplay always stays fresh. Customize weapons. Swap out cars and trucks. Build new tracks. It's easy to pick up, and nearly impossible to put down.
The future of play has arrived.
Magic Made By Science
These aren't just trucks. They're robots programmed for battle. Control them with your smart device and take down opponents with an array of weapons, from plasma cannons to flamethrowers. It's pulse-pounding play, made possible through state-of-the-art tech and it's an experience unlike anything else.
Introducing Supertrucks:
Supertrucks are nearly three times the size of Supercars and use their heft, weapons and new control system to dominate the track. But Supertrucks are more than just oversized vehicles, they come with access to a new game mode and Commanders.
Superior Tech:
Each Supertruck is loaded with cutting-edge features, including an optical sensor, a dedicated 50MHz CPU, and two high-performance motors, for precision maneuvering with 1-millimeter accuracy.
Freewheel
Don't let Freewheel's smooth exterior fool you; he's packing a world of hurt. Get too close a
We ship to