Takis
Takis Pop! Fuego Ready-To-Eat Popcorn, Hot Chili Pepper and Lime Artificially Flavored Popcorn, 6.7 Ounce Bag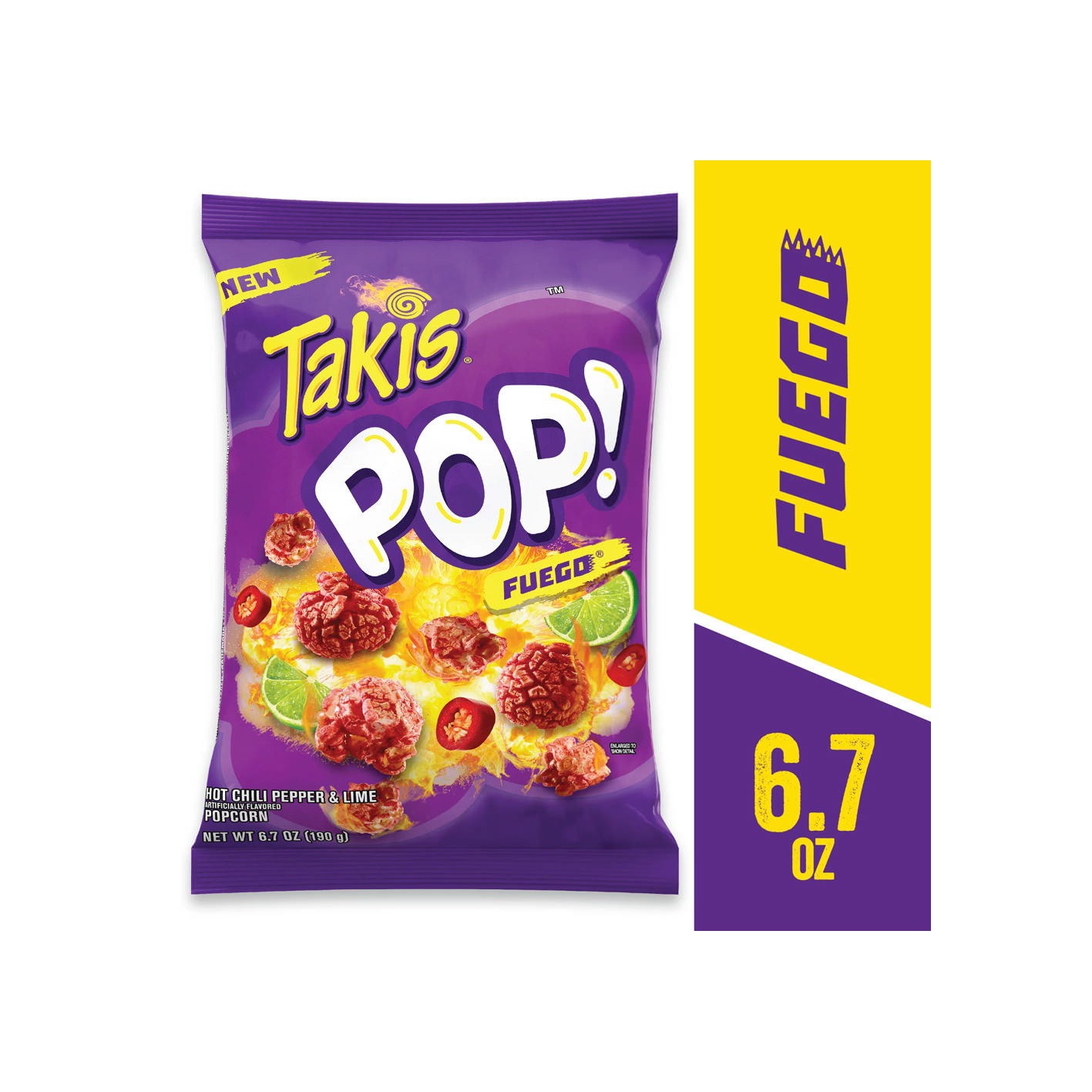 Takis
Takis Pop! Fuego Ready-To-Eat Popcorn, Hot Chili Pepper and Lime Artificially Flavored Popcorn, 6.7 Ounce Bag
Adnan Sleibi
9 in stock
Mix-up how you snack with Takis Pop! Fuego Ready-To-Eat Popcorn and give your taste buds the gift of launching into an unexplored universe of sensational flavor combinations. We know hunger can strike at a moment's notice, creating an unforecasted storm of emotion that distracts you from living in the moment. Which is why we set out to pioneer irresistible snacks that unleash tantalizing waves of flavor and deliver an unbeatable crunch in every single bite. Pack a whole bag to give yourself a tasty pick-me-up at school, be ready to conquer hunger while spending the day hanging with your friends, stock your home pantry with fresh snacks, or grab a handful for when you just need a boost of flavor while hunting for new adventures. Our zesty Hot Chili Pepper and Lime artificially flavored popcorn makes quick work of not only extinguishing your own hunger, but they're also a great food for sharing with friends and family. Share a snack with your squad and transform a low-key hangout into a delicious celebration or turn the vibes up to ten on your next road trip when you bring Takis Pop! Fuego Ready-To-Eat Popcorn. Try all our supercharged Takis' family of snacks and experience for yourself how our snacks give your senses a first-class ticket out of this world—changing the way you feast on flavor forever. Are you ready to Make the Intensity Pop?
A Frenzy of Flavor: Remix your snack game with the intense taste of our zesty lime and hot spicy chili artificially flavored popcorn snacks. This crunchy popcorn treat delivers big and bold flavors that make your tastebuds pop with every bite.
Snack On-The-Go: Packaged to match your lifestyle, our popcorn makes the perfect snack option for when you're up late studying, headed to school, embarking on an exciting road trip, or hanging with friends at a party.
A Feast for the Brave: We designed our spicy popcorn with one thing in mind; to deliver a worthy snack for those who dare. Simply pop open a bag and conquer those cravings—one boldly-flavored kernel at a time.
Share if You Dare: Each individual bag of our delicious popcorn is loaded with enough intensity to fire up the taste buds of everyone around you. So grab a bag and share a storm of flavor with your friends—or don't. We understand.
Supercharge the Way You Snack: When it comes to snacks we don't back down from flavor. We're not satisfied until we've created a maxed-out ultra-tantalizing snack that launches your taste buds into a new dimension. Craving yet?
Select your preferred checkout currency:
We ship to over 160 country worldwide
We ship to